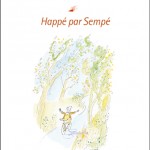 [Note: The French translation follows the English review.]
Happé par Sempé by Christophe Carlier. Paris: Serge Safran, 2013.
Happé par Sempé (Caught by Sempé) is a slim volume of first-person criticism, an art appreciation mixed with memoir. Perhaps most of all it is a long love letter from an acclaimed novelist to an iconic cartooonist.
Jean-Jacques Sempé is best known in the United States for his New Yorker covers, more than a hundred of which have featured his whimsical drawings. His importance in France, a country obsessed with cartoons, is perhaps second to none.
At the start of the book, Carlier has missed his train by a few seconds. He faces a long, boring wait, with nothing to do but watch the punctual passengers on the other side, who seem ludicrously happy just to not be him. What happens next is magical. Even though we know that we are following the author's ripe imagination, what unfolds seems fabulously real and delightfully immediate.
Waiting at the train station, Carlier recreates a Sempé drawing in his head. Then he becomes a Sempé character. The world around him transforms into Sempé's whimsical universe of slippery, splotchy, watercolored joy. The author imagines his suitcase covered with travel stickers, and he can no longer feel the weight of his baggage or his tardiness. A woman across the track is seized with a crazy laugh. He is saved. Sempé allowed him to observe himself from the outside, with the amusement of a spectator. He can see the absurdity of our daily lives and troubles, as well as the happiness that soaks through our days the way watercolor soaks through the paper.
Once Carlier, our narrator and guide, learns to draw Sempé's characters—in his head—these drole, balletic creatures can follow him everywhere. And, lucky for us, we can use this technique to imagine our own Sempé-populated world wherever we go.
What is Sempé's irresistible appeal? Not nostalgia, but something more edgy and innovative. Carlier tells us that the artist doesn't evoke the past but instead precisely observes the present. Sempé's gift is giving close attention to small things: Bicycles with frames so thin their riders resemble tightrope walkers. Angry people who look so much like children that we are moved by their troubles. Politicians and other bigshots who wear their ties on their shoulders like flags in the wind.
Calling Happé par Sempé criticism is like calling MFK Fisher's luscious stories about food cookbooks. Both authors write lovingly about their chosen topics in a deeply intimate way. Both give us abundant and amusing narratives that can add adventure to our quotidian lives and remind us of the hidden beauty in small, seemingly insignificant things.
The combination of invention and documentation in Happé par Sempé reminds me of Patrick Modiano's Dora. In that brilliant nonfiction work about a Parisian Jewish girl who died in the Holocaust, Modiano leads us on a quest to discover and imagine who Dora was. He enters into the experience of research in the same, first-person way that Carlier does. Both Happé and Dora are hybrid kinds of writing: nonfiction about a real person that is participatory and involves active imagination on the part of the author. Both are written in elegant, spare, melodious prose. Prose so beautiful, evocative, and precise that we can imagine the drawings when we read the book and then venture out into the world, even when we don't have the pictures in front of us.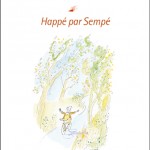 Happé par Sempé par Christophe Carlier. Paris : Serge Safran, 2013.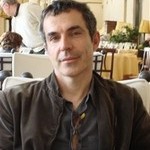 Happé par Sempé est un mince volume de la critique intime, l'appréciation de l'art mélangé avec mémoire. Peut-être d'abord et surtout, c'est une longue lettre d'amour écrit de la part d'un romancier primé à une cartooniste emblématique.
Jean- Jacques Sempé est le plus connu aux Etats-Unis pour ses couvertures du New Yorker, plus d'une centaine qui ont présenté ses dessins fantaisistes. Son importance en France est difficile de surestimer.
Au début du livre, Carlier a raté son train—de peu. Il attend une attente longue et ennuyeuse, avec rien à faire que de regarder les passagers ponctuels de l'autre côté, qui semblent ridiculement heureux juste de ne pas être lui. Ce qui se passe ensuite est magique. Même si nous savons que nous suivons imagination de l'auteur, ce qui se déroule semble fabuleusement réel et délicieusement immédiate.
Attente à la gare, Carlier fait un dessin de Sempé dans la tête. Puis il devient un personnage dessiné par Sempé. Le monde autour de lui se transforme en univers fantaisiste de Sempé, un monde de glissant plein de la joie aquarellée. L'auteur imagine sa valise couverte avec des autocollants de voyage, et il ne peut plus sentir le poids de ses bagages ou des sa manque de ponctualité. Une femme à travers la piste est saisie d'un rire fou. Il est sauvé. Sempé lui a permis de s'observer de l'extérieur, à l'amusement d'un spectateur. Il peut voir l'absurdité de nos vies quotidiennes et les troubles, ainsi que le bonheur qui absorbe à travers nos jours la façon aquarelle absorbe à travers le papier.
Une fois Carlier, notre narrateur et guide, apprend à dessiner les personnages de Sempé dans la tête ces créatures balletique et drôle peuvent le suivre partout. Et, heureusement pour nous, nous pouvons utiliser cette technique pour imaginer notre propre monde Sempé peuplée n'importe où nous allons.
Quel est irrésistible chez Sempé ? Pas de nostalgie, mais quelque chose de plus innovante. Carlier nous dit que l'artiste n'évoque pas le passé mais il observe précisément le présent. Sempé nous enseigne comment donner une attention particulière aux petites choses : vélos avec des cadres si mince leurs cavaliers ressemblent funambules. Les gens en colère qui ressemblent tellement à des enfants que nous sommes émus par leurs chagrins. Les politiciens et les autres gros bonnets qui portent leurs cravates sur leurs épaules comme des drapeaux dans le vent.
Appeler Happé par Sempé critique serait pareille d'appeler les histoires succulentes de MFK Fisher les livres de recettes alimentaires. Les deux auteurs écrivent amoureusement sur ​​leurs thèmes choisis d'une manière profondément intime. Les deux auteurs nous donnent des récits abondantes et amusants qui peuvent ajouter aventure à nos vies quotidiennes et nous rappeler la beauté cachée dans les petites choses, en apparence insignifiants.
La combinaison de l'invention et de la documentation chez Happé par Sempé me rappelle de Dora de Patrick Modiano. Dans ce travail documentaire brillante il s'agit d'une jeune fille juive parisienne qui est morte dans l'Holocauste, et Modiano nous conduit dans une quête pour découvrir et imaginer cette fille. Il entre dans l'expérience de la recherche de la même façon que fait Carlier. Les deux livres, Happé et Dora, sont des sortes hybrides d'écriture : un conte d'une personne réelle qui est participative et qui implique une imagination active de la part de l'auteur. Les deux livres sont écrits avec une prose qui est élégant, libre, et mélodieuse. Prose si belle, évocatrice, et précise que l'on peut imaginer les dessins quand nous lisons le livre et ensuite s'aventurer dans le monde, même si nous n'avons pas les photos en face de nous.