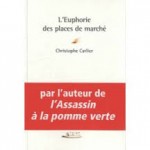 [Note: The French translation follows the English version.]
L'Euphorie des places des marché (Euphoria of the Marketplace). Paris: Serge Safran, 2014.
Christophe Carlier is my favorite contemporary French novelist. I am not the only member of the Carlier fan club. His debut novel, Assassin à la Pomme Verte garnered both critical and popular acclaim, winning the 2012 First Novel Prize in France.
Full disclosure: I am biased. When I read Carlier's first novel I had not yet met him. But now that I have discovered that he embodies all our American romantic notions of the charm, elegance, and generosity of France, that he is a true French mensch, I can't help but love his work even more. 
Carlier writes slim gems of novels, each under 200 pages which (if your French is better than mine) can be read in a few sittings. They are condensed and distilled, and the action takes place over a brief period of time. His nonfiction book, Happé par Sempé (released just a few months before L'Euphorie), is the shortest of them all, at 71 pages. (For my full review of that book, see http://www.sharonharrigan.net/blog/review-of-happe-par-sempe-by-christophe-carlier-paris-serge-safran-2013/).
Carlier is a literary novelist who likes to play with genres. In Assassin à la Pomme Verte, he takes on the murder mystery form, giving us suspense and high stakes while infusing the book with elegant, musical, and metaphoric language. He poses philosophical and moral questions while propelling us forward in Agatha Christie style, to find out if the assassin will get caught. (See my full review of the book, in French, here: http://www.sharonharrigan.net/blog/lassassin-a-la-pomme-verte-par-christophe-carlier/)
In L'Euphorie des Places de la Marché Carlier plays with the comic form. The novel is a tightly woven, complex comedy of manners. It is also an astute commentary on world affairs: the economy and our obsession with the drama of its ups and downs, celebrity culture and how it feeds our delusions of grandeur, sexual politics, office politics, globalization, the decline of the Euro zone, French labor laws, the danger of virtual experiences and the pitfalls of online dating, and the ridiculous and contradictory cultural stereotypes the French and Americans have of each other. All these large and important themes don't weigh the book down. From beginning to end, it is a farce, a romp, a screwball comedy that also happens to be super smart.
The book begins with the Monday evening commutes of Norbert, the new director of a construction company called Buronex, and Agathe, secretary for the company for the past twenty years.
L'Euphorie is elegantly structured to fit roughly one work week, a day for each chapter. The novel alternates point of view between its two main characters, with brief appearances by other employees, clients, and significant others. There is Ludivine, the twenty-something intern who is the ideal worker and thus Norbert's object of desire as well as Agathe's arch enemy. Victoire, Norbert's wife, who withholds salt and secrets. Rudy Harrington, the American client who is the anti-Norbert. Benjamin, the online dater who refuses to meet a woman in person. The secretary who is tied up in her office with the safe open but not burgled, who becomes a topic of endless conversation and speculation. Everyone seems to be cheating on everyone else, in business and pleasure, in a game of cat and mouse, on the global stage.
Norbert drives to work on the Boulevard Peripherique, the bypass road around Paris. As he circles the city, he dreams of being geographically and professionally at the center: of Paris, of his business, of the global economy. This literal drive on the periphery to his home in the outskirts comes to symbolize Norbert's yearnings, and by extension, the yearnings of France, to not be pushed aside by upstarts in the New World and emerging countries.
Agathe's commute is also a symbol for who she is. All she ever wanted out of life was to keep her seat. She chose the job at Buronex only because it did not require her to change stations. After her boss retires and the new director, Norbert, arrives, her new goal is to annoy him so much that he will try to fire her. Because of the strict protections of French labor law, she knows it will be so difficult to get rid of her that she will end up with a year off with pay.
Agathe spends her free time watching TV and fantasizing that she is Elizabeth Taylor playing Cleopatra. Norbert spends his commute listening to talk radio and imagining he is Machievelli or Leonardo da Vinci.
Norbert comes to realize that Agathe incarnates everything that is wrong with Buronex. Even everything that is wrong with France. He convinces himself that it is people like Agathe who have caused the euro zone to plunge. He has to get rid of her so France can take back its place in global affairs.
The simple premise—a boss wants to fire an incompetent secretary—spirals out to its most absurd extremes. When Norbert realizes it would be easier to hire a hit man to kill his secretary than to let her go legally, it becomes clear that Carlier still has some affection for the murder mystery form, even in in such a humorous novel.
As an American who has lived in Paris, one of the most fascinating aspects of the novel for me is the satire of French-American national stereotypes. Agathe embarrasses her boss, Norbert, by dressing voluptuously, but Harrington thinks she embodies everything the French do right. "The Frenchwoman's bust seemed to him a living allegory of services to be offered," whereas the bust of his primly dressed American assistant Jennifer illustrated the economic problems of America. "The later the hour, the more he felt ready to recognize the superiority of the European model."
When Agathe first meets the American businessman (whose name, amusingly, is so similar to my own), she thinks "this Rudy Harrington from the New World," is "the ideal lover, smelling of ketchup and dollars." She knows little about America but wants to hear about "this faraway place of Red Skins and limousines."
Agathe's worship of American bravado soon changes though, and she adopts another stereotype. Her response to a sexual fumble is hilarious: "She had long suspected that the vigor [of American men] was like that of the California sun, subject to eclipses."
We all spend most of our lives at work. Our jobs are so central to who we are, but many novels place their characters' professional lives at the periphery of the story. L'Euphorie des places de marché is a workplace novel, in the vein of Joshua Ferris' brilliantly clever and funny And Then We Came to an End. Both books are about employees being fired. Is there anything more dramatic or relevant than that? Few novels tackle the absurdity of the news coverage of the economy as Carlier does, and none, I imagine, with such ferocity of wit and fun.
L'Euphorie des places de marché par Christophe Carlier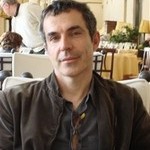 Je ne suis pas le seul membre du fan club de Christophe Carlier. Son premier roman, Assassin à la Pomme Verte était saluée par la critique et populaire, remportant le premier prix 2012 du roman en France.
La divulgation complète : je suis partiale . Quand j'ai lu le premier roman de Carlier, je ne l'avais pas encore rencontré. Mais des que j'ai découvert qu'il incarne toutes nos notions romantiques américaines du charme, l'élégance et la générosité de la France, j'adore ses romans encore plus.
Carlier écrit des trésors minces de romans, chacun moins de 200 pages qui ( si votre français est meilleur que le mien ) peuvent être lus en quelques séances. Ils sont condensés et distillés, et l' action se déroule sur une courte période de temps. Son livre critique, Happé par Sempé (sorti quelques mois avant L' Euphorie ), est le plus court de tous, à 71 pages. ( Pour mon examen complet de ce livre, voir http://www.sharonharrigan.net/blog/review-of-happe-par-sempe-by-christophe-carlier-paris-serge-safran-2013/).
Carlier est un romancier littéraire qui aime jouer avec les genres. Dans Assassin à la Pomme Verte, il prend la forme de policier, nous donnant suspense, tout en infusant le livre avec le langage élégant, musical, et métaphorique. Il pose des questions philosophiques et morales tout en nous propulsant dans le style Agatha Christie, pour savoir si l'assassin se faire prendre. ( Voir mon examen complet du livre, en français , ici : http://www.sharonharrigan.net/blog/lassassin-a-la-pomme-verte-par-christophe-carlier/ )
Dans L' Euphorie des Places de la Marché Carlier joue avec la forme comique. Le roman est une comédie de mœurs complexe. Il est également un commentaire avisé sur les affaires du monde : l'économie et notre obsession avec le drame de ses hauts et ses bas, la culture de la célébrité et la manière dont il se nourrit nos illusions de grandeur, la politique sexuelle, la politique de bureau, la mondialisation, le déclin de la zone euro, les lois françaises du travail, le danger d'expériences virtuelles et les pièges de la rencontre en ligne, et les stéréotypes culturels ridicules et contradictoires les américains et français ont les uns des autres. Tous ces thèmes grands et importants ne pèsent pas le livre. Du début à la fin, c'est une farce,  une comédie loufoque qui se trouve également être super intelligent.
Le livre commence par les déplacements du lundi soir de Norbert, le nouveau directeur d'une entreprise de peinture et plomberie nommlée Buronex, et Agathe, secrétaire de la société depuis les vingt années .
L' Euphorie est élégamment structuré pour s'adapter à peu près une semaine de travail, un jour pour chaque chapitre . Le point de vue se succède entre les deux personnages principaux, avec de brèves apparitions par d'autres employés, les clients et autres personnes.  Il y a Ludivine, le stagiaire qui est l'employé idéal et donc l'objet de desire pour Norbert ainsi que l'ennemi juré d'Agathe. Victoire, la femme de Norbert, qui retient le sel et les secrets. Rudy Harrington, le client américain qui est l'anti-Norbert. Benjamin, un amoureux en ligne qui refuse de vraiment rencontrer des femmes. Le secrétaire qui est ligoté dans son bureau avec le coffre-fort ouvert mais pas cambriolé, qui devient un sujet de conversation et de la spéculation sans fin. Tout le monde semble être triché sur tout le monde, dans les affaires et le plaisir, dans un jeu du chat et de la souris.
Norbert conduit a son bureau sur le boulevard périphérique a, la rocade autour de Paris. Comme il le tour de la ville, il rêve d'être géographiquement et professionnellement au centre: de Paris, de son entreprise, de l'économie mondiale. Ce voyage de son domicile dans la banlieue est le symbole des aspirations de Norbert, et par extension, les aspirations de la France, de ne pas être écarté par des parvenus dans le Nouveau Monde et les pays émergents.
Le trajet d'Agathe est un symbole de son esprit paresseux. « Elle avait pour ambition d'éviter les changements ,» et c'est avec ce seul but qu'elle a choisi son emploi. Après son patron prend sa retraite et le nouveau directeur, Norbert, arrive, son nouvel objectif est de l'ennuyer tellement qu'il va essayer de la virer. En raison des protections strictes du droit du travail français , elle sait que ce sera difficile de se débarrasser d'elle qu'elle va se retrouver avec un an de licenciement.
Agathe passe son temps libre à regarder la télévision et à fantasmer qu'elle est Elizabeth Taylor jouant Cléopâtre. Norbert passe son trajet en écoutant la radio pour parler et en imaginant qu'il est Machiavel ou Léonard de Vinci.
Norbert s'avère de réaliser que Agathe incarne tout ce qui ne va pas avec Buronex. Même tout ce qui ne va pas avec la France. Il se persuade qu'il est des gens comme Agathe qui ont causé la zone euro à plonger. Il doit la virer si la France peut reprendre sa place dans les affaires mondiales.
La prémisse simple—un patron veut tirer un secrétaire incompétent—bouge vers ses extrêmes les plus absurdes. Lorsque Norbert se rend compte qu'il serait plus facile d'embaucher un tueur à gages pour tuer son secrétaire que de la laisser partir légalement, il devient clair que Carlier a encore de l'affection pour la forme de policier même dans un tel roman humoristique .
Parce que je suis américaine et j'avais vécu à Paris, l'un des aspects les plus fascinants du roman pour moi, c'est la satire des stéréotypes nationaux franco-américaines. Agathe embarrasse son patron, Norbert , en s'habillant voluptueusement, mais Harrington pense qu'elle incarne tout ce que les Français font bien. « Le buste de La Française lui paraissait une l'allégorie vivante de l'offre de services »  tandis que le buste de son air pincé habillé assistant américaine Jennifer symbolise, pour lui, les problèmes économiques de l'Amérique. « Plus l'heure avançait, plus il se sentait prêt à reconnaître la supériorité du modèle européen. »
Quand Agathe première rencontre l' homme d'affaires américain (dont le nom , amusante , est si semblable à le mien) , elle pense que « ce Rudy Harrington venu du Nouveau Monde » est « l'amant idéal , sentant le ketchup et le dollar. » Elle sait peu de choses sur Amérique, mais veut entendre parler de « cet ailleurs peuplé de Peaux-Rouges et de limousines. »
Le culte d'Agathe de bravade américaine change bientôt cependant, et elle adopte un autre stéréotype. Sa réponse à un échappé sexuelle est hilare :  « Fine mouche, elle soupçonnait même depuis longtemps que leur vigueur pareille a celle du soleil californien, était sujette a certaines éclipses. »
Nous passons tous la plupart de nos vies au travail, mais de nombreux romans mettent la vie professionnelle de leurs personnages à la périphérie de l'histoire. L' Euphorie des places de marché est un roman de bureau, dans la veine de brillamment intelligent et drôle And Then We Came to an End by Joshua Ferris. Les deux livres s'agissent employés qui sont virés.
« La crise et les krachs, les dettes et les doutes, les soubresauts de la zone euro » : Y a-t-il quelque chose de plus dramatique ou pertinente que cela? « Norbert Langois adorait les économistes. » Moi, aussi. Et j'adore ce drôle roman économique, qui se déroule avec un féroce esprit de bonne humeur.