Posted by Sharon Harrigan on Feb 13th, 2012 in
Motherhood and Other Head Coverings
|
3 comments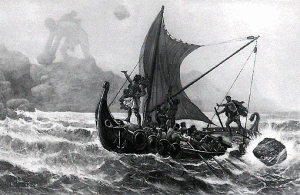 "We have a lot to live up to if we're going to be a model couple," my husband James said after comments from two friends. One, about ten years my junior, told us she and her husband want to be like us "when they grow up."
The other comparison—a far more common one—was from a man whose marriage is starting to end. He said he looks at James and me, both divorced and happily remarried, and sees his future.
Our marriage is a fairy tale to me, still. It's also the end of an odyssey fraught with monsters.
Neither of these two friends knew my ex-husband, who, after my son was born, spiraled into agoraphobia, manic depression, and panic disorder. Who stopped working and racked up debt and became afraid to be alone. Who threatened to kill himself if I left. Who clung to me like I was a life raft, even though I knew if I stayed we both would drown.
Like Odysseus, I finally found my way home. And here I am, in a marriage almost ten years old, which produced a daughter whose entire life is calm seas and fair weather.
Happy Valentines Day, sweet child. May you and your future husband be like us when you grow up, too. Though may God, Zeus, or your own good sense spare you the journey that landed us here.