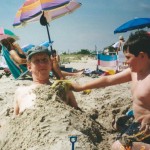 "Happy Stepfather's Day!" said no one, ever. That's an exaggeration—but not by much.
I haven't been the world's most grateful stepdaughter. Nor has my son been the most emotionally demonstrative stepson to my husband James.
But I hadn't realized how maligned stepfathers were until I watched Boyhood with James last year. "What a shame the Evil Stepfather showed up again," he said. "Whenever there's a stepfather in the story, he's always the bad guy."
That couldn't be true. Weren't stepmothers the ones who were ugly and homicidal in practically every Disney movie and Grimm's fairy tale?
I did a little research and discovered that, as usual, my husband was right. The Stepfather Villain was one of the most prevalent stereotypes around.
Does it matter? What harm do stereotypes do, besides dampening our aesthetic pleasure by denying us freshness and surprise? As author Chimamanda Ngozi Adichie says, "The problem with stereotypes is not that they are untrue, but that they are incomplete. They make one story become the only story."
Read my full essay, published in The Rumpus, here.