Posted by Sharon Harrigan on Feb 11th, 2011 in
Reading Like a Writer
|
0 comments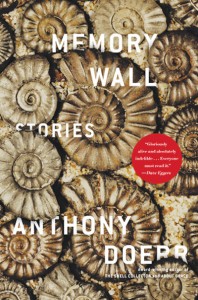 Memory Wall by Anthony Doerr. New York: Scribner, 2010. Review by Sharon Harrigan
---
In Anthony Doerr's fiction, magic happens.  In the title story, a doctor offers a 74-year-old woman surgery to restore memories. Years later, doctors can "harvest memories from wealthy people and print them on cartridges." People in nursing homes start  "using memory machines like drugs." But there is also magic in the style, the way Doerr merges the natural and the man-made, his rhythms as massive and resonant as a redwood forest being felled with a chain saw. A suburb of Cape Town is "a place of warm rains, big-windowed lofts, and silent, predatory automobiles" where "a thousand city lights wink and gutter behind sheets of fog like candleflames."
My favorite story in the collection, "Procreate, Generate," has many of the mythic and fairy tale qualities I loved so much in the Doerr's first story collection, The Shell Collector. This story is about problem familiar in fairy tales, from Cinderella to Rapunzel: the quest to have a baby.
The story is colloquial and fresh, fluid and modern, but it's also archetypal. Imogene and Herb are introduced in the first paragraphs with heroic language: Imogene is described as a kind of queen, and she works for a company called Cyclops. She has "spun-sugar hair" but (surprisingly) also a black spider web tattooed on her left biceps. Herb is an anti-prince, described as "medium-sized, bald, and of no special courage." They live among "a graveyard of abandoned tires" and "whole bevies of quail that sometimes sprint across the driveway."
Imogene has twenty-two bird feeders, which she refills every evening. There is something magical about this precise, excessive number. Her obsession with nurturing also gives us a clue on the first page that the story is going to be about longing for parenthood.
Imogene's back story has the severe edges and grand sweep of myth, too. "When she was twenty-one, her parents were killed simultaneously when their Buick LeSabre skidded off Route 506 and flipped into a ditch." She graduated from college two weeks later, then moved to Morocco, writing Herb cryptic letters about pigeons, then joined the Peace Corps to work with blind women.
Doerr makes even medical terminology sound magical. After Imogene takes her last birth control pill and smashes the packet, she and Herb have sex and "a zygote like a tiny question mark drifts into her womb." He also mixes esoteric terms with scenes of animals and plants, giving us a jarring intersection of man-made medicine and nature. On the drive home from the fertility clinic, Imogene thinks: "IUI, ICSI, HCG, IVF" while looking at a herd of antelope standing in scraps of snow off the Interstate. As the fertility treatments do their work on Imogene's body, the biological processes are described in poetic terms: Imogene's ovaries "become water balloons, dandelion heads, swollen peonies."
The intersection of science and magic is made more meaningful because Herb is a biology professor. Despondent after a failed IVF procedure, in the middle of a lecture he stops and imagines "doctors scrabbling between Imogene's legs, dragging golf ball-size eggs from her ovaries." A girl—dressed in "something like a knight might wear under his armor"—snickers at his spacing out.
When they are both diagnosed as infertile, Imogene decides, like a pre-Enlightenment fairy tale queen would, that it is all preordained. She is "Imogene the Ice Queen. Imogene the Pipe Dream. Too petite, too pale, too pretty." Herb engages in his own magical thinking: "It's the tires in the yard."
The infertility-treatment pills make Imogene prettier. Which princess does this sound like: "Her lips are almost crimson, her hair is a big opalescent crown"?
As befits a fairy tale, this is told in the third person omniscient point of view, a rarity in modern short stories. (Or, more specifically, it is told from Imogene and Herb's point of view, since they are the only two characters. It often seems like a unified point of view, because the story is about their shared obsession.)
As the story recounts the quest to become pregnant, the obstacles mount like the trials of Hercules or the threats Odysseus faces on his return to Ithaca. Imogene's boss chides her for taking too much time off for doctor's visits. How sick can a person be? he asks. Insensitive friends and co-workers tease and joke, admonishing them to be fruitful and multiply. The undergraduate dressed like a knight sends a sexually provocative e-mail to Herb. The hormones fail. The IVF doesn't take.
But the story does not end in despair. Our hero, the baby-in-waiting, will conquer the Cyclops and Sirens and all the other monsters of the amniotic fluid sea. Imogene is at the hospital with three good embryos in her womb. She decides to keep all of them. On the final page, the couple is waiting ten days to see how many of the embryos will stay attached. "Tell me it's going to be okay," Herb whispers in the last paragraph. "Tell me you love me."
Imogene's reaction mirrors our own. She "starts to tremble. She shuts her eyes and says she does." And, I suspect, she cried. As I did. As I imagine anyone else would, reading this gorgeous story about the most primal pain and joy there is.